http://sites.google.com/site/londonstreetgangs/articles/history-of-black-gangs-in-london-2011
Brief History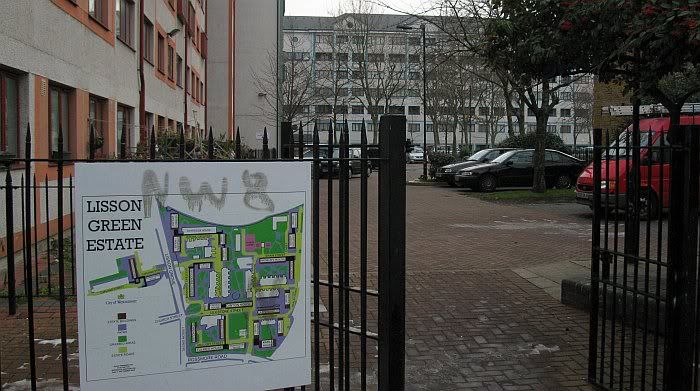 Street Gangs / Youth Gangs
The City of Westminster is best known for its tourist attractions - home to numerous tourist hotspots such as the 'West End', Soho, Chinatown, Houses of Parliament, Piccadily Circus and Leicester Square. Sitting beyond these areas are some of the cities most deprived housing estates, some which have been synonymous with crime and gangs for many years. The earliest documented gangs in this area were composed of young fighters. In the late 1880's the "Lisson Grove Gang" fought pitched battles with their rivals from nearby Tottenham Court Road - "Fitzroy Place Boys". The feud resulted in a murder at Regent's Park in 1888 following a teen 'gang fight'. The Harrow Road area, which includes the Mozart estate (once dubbed 'Crack City' for its drug problems), and the nearby Lisson Green estate are two of the longest ongoing gang areas of the borough in more modern times. During the 1980's, area conflicts and rivalries were a common feature amongst a minority of youths from these areas, one of the earliest named gangs was the
Bengali Green Manz
.
By the turn of the 1990's groups of young men from places like Mozart and Lisson Green were becoming involved in more sinister criminal activities such as the sale of drugs. Accompanying crimes such as robbery and gun violence were also becoming more common. West London, spread around an epicentre of Shepherd's Bush and Ladbroke Grove, in 1991 ranked alongside east and south London boroughs in terms of volume of homicides. Another area of Westminster, Paddington, was an extension of this and had begun to come to notice for what was then a new influx of
'Yardie'
gangs. In one case, a 32-year-old man was hurled 50ft from the balcony of a fifth floor flat on the Wessex Gardens estate near Westbourne Park Road. Reported as a Yardie drug feud, the suspects were described as two African-Americans. They threatened the victim at gun point for money owed to them from a crack deal. When an argument broke out they held him over the balcony before letting him drop. Just weeks following the Wessex Gardens incident a 23-year-old man was shot dead on Harrow Road. The men tore the victims £200 gold Gucci chain from his neck and ran off. Moments later they came back, demanded the victims gold rings, and then shot him in the head. The suspects were in their early twenties.
Whilst the drug dealing crews and robbers were causing casual random violence througout parts of inner London, the next generation of youth gangs were in their development. Harrow Road and Mozart prevailed as Westminster's local gang areas, however, the West End became somewhat a setting for non-local gangs. Places such as Trocadero were a draw for youth gangs from across London and in the mid-1990's reports regarding the emergence of 'Triad' street gangs began to gain momentum in the media. It was believed that young people, predominantly Asian but nonetheless regardless of ethnicity, were being recruited into criminal youth gangs by gangsters belonging to the 14K and Wo Shing Wo Triad gangs. Meanwhile, local gang rivalries had historically been ignited in schools across Westminster, sometimes because of cultural differences between youths, or because of area rivalries. In 1995, a playgorund 'tiff' later led to the murder of school headmaster Philip Lawrence in Maida Vale. Mr Lawrence of St George's School suffered a fatal stab wound whilst trying to help a young boy at the centre of a 'gang feud' that was linked to Triad influenced street gangs. Learco Chindamo was sentenced to fourteen years for the murder. Numerous stories in the media have claimed he was a member of a Triad gang, although which one depends on which article you read. No fewer than seven Triad gang names were put forward as being the gang Chindamo belonged to. They included the SW Triads, Wo Shing Wo, 14K and Venom. Soon after Learco Chindamo was released from prison he was arrested for a robbery which took place in November 2010.

A new wave of 'Yardie' violence erupted in West London by the end of the 1990's and commanded considerable media attention. Whilst the youth gangs were still active, their involvement in serious violence was far less frequent than that of the drug crews and organised criminals. Between 1998 and 2001 there were three murders linked to Chinatown's Triad groups. There was also a spate of shooting deaths. One young man from north London was shot dead outside a nightlcub following a row in Golden Square. In another incident, Jamaican born Rodney Deano Cain, a suspected drug dealer, was shot three times before he was found dead in his flat at Gloucester Terrace, Paddington. Police believe he had been killed by rival dealers and they found $5,000 buried in his garden, which they believed the killers had been looking for.
By 2006-07, when street gang culture was becoming a constant issue in the media, numerous named groups and gangs became apparent in the City of Westminster. There was still the long established Lisson Green Mandem and Bengali Green Manz. Other nearby gangs included the Edgware Road Boys, whose younger associated gang are known as Kurdz Taking Over, and the nearby Church Street estate became home to Congolese Section. Around the Harrow Road area, an allegiance of gangs emerged known as the 'Horror Road' alliance. This gang was composed of several sets including Grey Days, Street Dreams, C.R.I.M.E Set and Grimiest Movement. The Mozart estate became home to the Mozart Bloods, whilst the older generation joined a three-way allegiance known as SMG. Harrow Road and the Lisson Green areas have a long ongoing rivalry within Westminster, each group also has rivalries extending into the neighbouring boroughs such as Brent and Kensington & Chelsea (Ladbroke Grove). A report into the gang issue (Working With Men - Consultation Evaluation) in Westminster was commissioned in 2007, amongst the findings it identified that tensions often arose because of differences between various communities (black, Asian, Kurdish etc..) within local schools in north Westminster.

Since the report, the number of gangs in the borough has grown with further developments in the south west (SW1 postal district) of Westminster and also the establishment of the Maida Vale Mob in north Westminster. In SW1, several estates across this postal district make up 'Pimz Town' (Pimlico). Gangs within Pimz Town include 'Catch Them Murderers' from the Churchill Gardens estate, Page Street gang from the Regency and Millbank estates, and E-Block from the Ebury Bridge area. Since 2009, there has been a growing number of reports on gang incidents involving young people from these areas. They include stories of young people being involved in violence, stabbings and the dealing of class A drugs. Despite the increased number of gangs, and an apparent increase in violence involving the gangs of north Westminster throughout 2011, the most talked about case has been that of schoolboy Sofyen Belamouadden.

The teenagers death was one of the most publicised and frequently reported on cases of recent years. This is largely owing to the setting, a packed Victoria train station, amongst hundreds of innocent onlookers in an area covered with CCTV. The attack, which involved over two dozen youths and took place during the rush hour, saw the teen chased down and stabbed to death in the ticket hall of the station. Many of the people involved in the incident have been brought to trial for murder as a joint enterprise. All the suspects were from south London; on the 15th May 2011 two youths were convicted of manslaughter whilst numerous others faced sentences for manslaughter, violent disorder and conspiracy to cause GBH. It is believed the incident occurred after a fight was arranged on Facebook stemming from issues between groups of youths at a nearby school. The media have avoided naming the gangs involved, Sofyen was believed to be an associate of the GFL (Gangsters For Life) set from West London, a younger generation to the MDP gang.